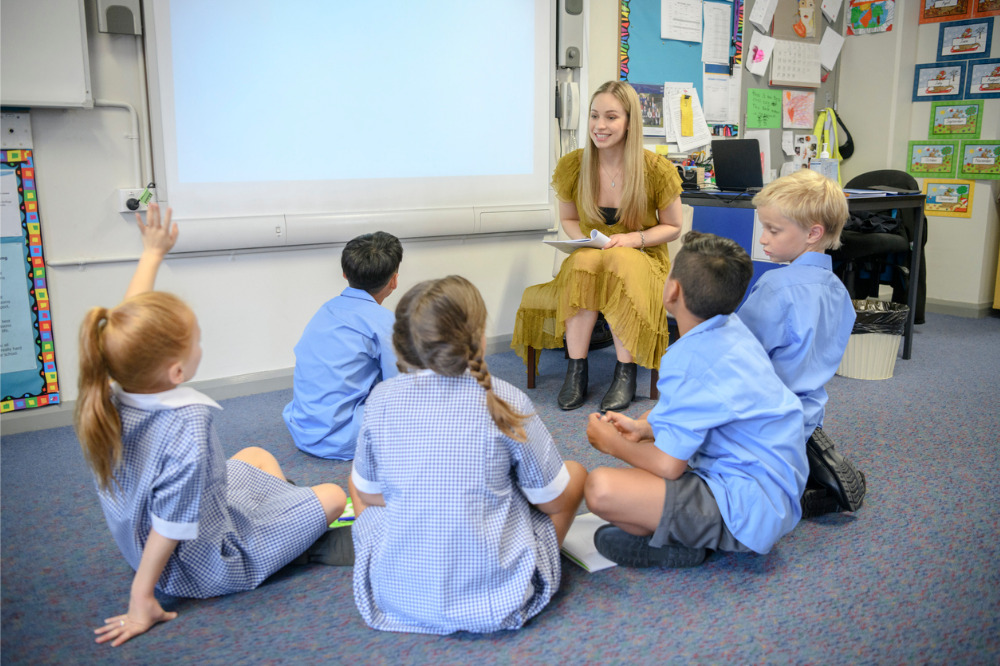 According to recent Australian Teacher Workforce Data (ATWD), full-time teachers work on average 55 hours per week, with many hours unpaid.
Indeed, a number of reports have shown that overwork is forcing teachers and school leaders to consider leaving the profession. One study of 2,444 Australian primary and secondary school teachers found only 41% intended to remain in the profession.
Acknowledging the ATWD data, Federal Education Minister Jason Clare recently said, "They work longer hours than teachers in many other countries, but less time in front of a class. Only 40 per cent of the hours our teachers work involve face-to-face learning."
In August, the first face-to-face meeting of Federal and State Education Ministers in more than a year concluded with an agreement to create a 'national action plan' by December to address the growing teacher shortage in Australia's schools.
Part of the action plan includes the creation of an expert panel to review how initial teacher education (ITE) is taught at universities across Australia. Announcing the expert panel in September, Minister Clare said the panel will make recommendations to him on how the education system can strengthen the link between performance and funding of initial teacher education and strengthen initial teacher education programs to deliver effective classroom ready graduates.
"Recommendations will also include how we can improve the quality of practical experience in teaching and postgraduate initial teacher education for mid-career entrants."
In the meantime, schools, universities, service providers and other key stakeholders are doubling down on efforts to repair what many agree is a broken system.
Gavin McCormack is the former principal at Farmhouse Montessori School in Sydney and since January 2022 has been the co-founder of Australian-based online educational platform UpSchool. In January 2023, UpSchool will release a 10-week teacher training course called 'Education for the 21st Century', which is designed to assist teachers in refocusing on what matters in the world of education.
Having taught for over 20 years in several countries across the world, this is a subject very close to McCormack's heart. He says teachers have been undermined for too long by a system "forcing them to produce reams of paperwork to prove that they can teach."
"Educators want to teach with passion in their unique way and walk away feeling that they had some say in the way their children learned today. But as paperwork piles up, the ability for teachers to think creatively and, therefore, teach dynamically, has been stifled," McCormack told The Educator.
"Yes, the Australian curriculum is very well put together, but the current system is designed to focus on scores, rankings and grades, and this means that standardised tests end up being the end goal. Once standardised tests are the end goal, our teachers inevitably start working towards these tests and the wonderfully open-ended curriculum is suddenly null and void."
McCormack said teacher training must provide graduates with the ability to achieve academic success without focusing on weekly spelling tests, termly exams and NAPLAN results.
"There is more educational success than achieving a top score and once our teachers are aware that this is OK, they will feel that they can spread their educational wings and bring the magic of teaching back into their classrooms."
Kids need to be treated like humans, not machines
Professor John Fischetti from the University of Newcastle's College of Human and Social Futures says schools are "too often places where young people go to watch their teachers work, and to prepare for tests."
"Schools of the future are places young people go to be inspired, to learn the key knowledge, skill and dispositions they need to be vibrant contributors is a free and civil society," Professor Fischetti told The Educator.
"Equally important, schools of the future are places where young people are able to become who they are, focussing on their talents, passions and gifts. Our young people are guided by their coaches, guides, mentors and inspirations – their teachers."
Professor Fischetti says the focus of study is not just on engagement and relevance, with strong literacy, numeracy, writing collaboration and thinking skills but also on developing keenness toward making an impact on society and serving humanity.
"As machines tell us what to do rather than we tell them what to do, we should also emphasise higher-order skills that keep the focus on innovation, creativity and improving the human experience."
'Different thinking is needed to fix the big problems'
With more than 40 years of service that has included the leadership of 80 Catholic schools across Western Sydney and the Blue Mountains, Greg Whitby has gained a reputation as one of the most celebrated educators in Australia.
Whitby, who retires as the executive director of Catholic Education Diocese of Parramatta at the end of the 2022 school year, has long encouraged schools to think outside the box when it comes to how teaching and learning is delivered.
"I think that there's a need to think really differently to find a way through this one. Schools and school systems have been giving it everything we've got to try to use the resources that we have as best we can," Dr Whitby told The Educator.
"This is not just an argument for ensuring that all schools are appropriately resourced. Government can support us to do things differently."
Dr Whitby said this should include considering how technology can help to build on the recognition of teachers' role in the community that was seen so strongly through the COVID crisis.
"How can Government help us to free teachers up to focus on the things that matter most?"
'If your staff aren't motivated, don't expect your students to be'
Melbourne Montessori School principal, Daniel Thomas, says "coming to school should be as exciting as going to Disneyland".
"Richard Gerver, one of the clearest and most passionate voices for radical change both in education and in business, wonders this in his 2010 book 'Creating Tomorrow's Schools Today' about education and why we do what we do," Thomas told The Educator.
"My intention is for all members of our community to feel like attending Melbourne Montessori School is the happiest place on earth, and I believe that this starts with our staff."
Thomas said if staff don't come to school with enthusiasm and experience job satisfaction, it cannot expect its students to do the same.
"Our leaders need to lead by example and role model positive behaviours, be a visible presence in the school, greet staff and students every morning," he said.
"Interact with as many people as you can each day and find time to have meaningful conversations. We must also find the joy in coming to work every day."