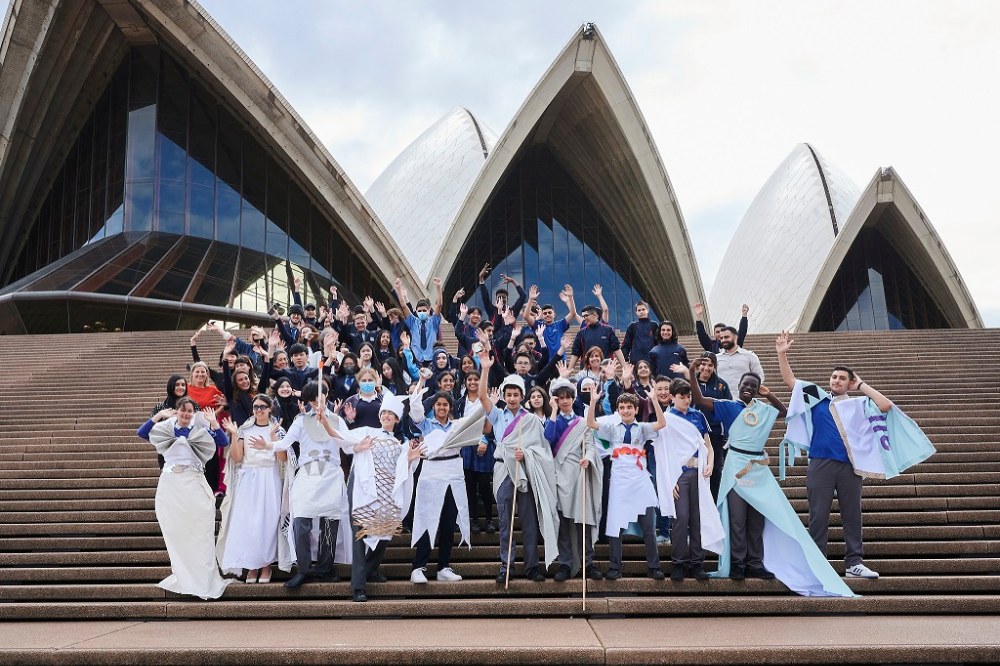 A growing body of research shows that creativity is a core competency across all disciplines, reinforcing the need for schools and universities to increase their emphasis on teaching this important skill.
In recent years, some of the world's greatest thinkers in education have ramped up calls for a greater focus on the benefits of creativity to help children improve their critical thinking abilities and prepare for future change and uncertainty.
While the Arts play perhaps the greatest role of any subject when it comes to instilling creativity in young people, the COVID-19 pandemic has dealt a major blow to this important sector, at a time when it is experiencing gross underfunding.
Recognising this, the Sydney Opera House (SOH) has been on a mission to engage more young people in Arts education by connecting them with some truly unique and inspirational opportunities – both in person and online.
In 2021, The SOH launched its biggest ever Creative Learning annual program for schools, providing students with more than a dozen workshops exploring the areas of First Nations, STEAM, sustainability, the built environment, and a range of other learning opportunities.
The program, which has expanded into the SOH's Centre for Creativity – the SOH's first permanent, dedicated space for creativity to engage schools and lifelong learners – opened another exciting chapter last week with the launch of the BUILD Creative Learning program.
'There was electricity in the air'
Enabled through a three-year partnership with the Ove Arup Foundation – BUILD includes three distinct on-site programs, housed in our new Centre for Creativity, with each designed to inspire and educate a different audience.
"There was electricity in the air at the Sydney Opera House last week when hosted 60 students for the pilot of our BUILD Secondary School Design Challenge," Sydney Opera House Head of Children, Families and Creative Learning, Tamara Harrison, told The Educator.
"The program redefines what STEM curriculum means for year 9 and 10 students by using the Opera House as a learning lens that connects art, architecture, applied skills and creative expression."
From behind-the-scenes access and architectural tours of our site to workshops on costume design, First Nations weaving techniques and experts on sustainability in fashion, as well as bodies as building dance classes, the students were exposed to a range of new interest areas and potential career paths in STEAM industries.
"The week culminated in a costume design challenge, where the students put their new skills to the test. The impact of the program was so clear as they came together in groups, with new friends from different schools, to showcase their designs in an utterly joyful presentation of creativity," Harrison said.
"We can't wait to see what the future holds for this cohort as they start to think about their careers and aspirations after school."
'A significant impact on students' learning and engagement'
From the August 1-5, 20 students from Liverpool Girls High School participated in the Design Challenge. The school's principal, Kirstine Gonano, said the Challenge has had a significant impact on participating students' learning and engagement.
"Students have worked collaboratively and seen first-hand how creative and critical thinking can be directly applied to challenges and real-world learning tasks," Gonano told The Educator.
"Providing students with the opportunity to learn, design and create in an authentic environment with industry professionals, engages students in the learning process and develops their understanding of themselves as a learner."
Gonano said the experience has also broadened her students' world perspectives and understanding of how STEM/STEAM careers are real and viable options for them in the world beyond school.
Kimberlee Shovelton, the school's Head Teacher of Technological and Applied Studies said students were encouraged to think outside of the square using the SOH building, its surrounding site and its story as inspiration to explore possible design solutions in costume design.
"Throughout the week, the students experimented with different design mediums such as play, dance, geometry, architecture, engineering, colour, shape and perspective to unpack and deepen their understanding of STEM," Shovelton told The Educator.
"As a result of their participation, the students' engagement in learning and critical thinking skills improved, in particular, the way they viewed design and how to start the process of innovative and creative thinking."
Shovelton said once the students returned to their Design and Technology Class at school, they were able to share their experience and the new skills they learned during the SOH Design Challenge with their peers to collaborate and work on innovative and creative design solutions for their school-based projects.
'The program promoted and enhanced teamwork'
Medina Radovovic, a Year 11 student at Liverpool Girls High School, said she felt fortunate to be working with different schools that had different ideas.
"The program promoted and enhanced teamwork to design, create and deliver a unique costume that incorporated the Opera House architectural designs," Radovovic told The Educator.
"We were guided and mentored by a range of experienced architects, environmentalists, fashion designers, dancers with their knowledge to create a design that fit the brief."
Radovovic said that as part of the week-long excursion, her class was exposed to various workshops which included an architect who talked about the design of the SOH as well as the designer themselves.
"I found this extremely fascinating because it is a big site, and it is recognised around the world for its unique design. It was inspirational to hear the designer's vision and how he worked with a team of architects and engineers to create what we know as the Sydney Opera House," she said.
Radovovic said it made her aware that even though the designer had an idea, he needed to use the knowledge and expertise of others in order to create something so significant.
"He explored the real world of maths, geometry, engineering and architecture to create the unique design. With a small idea, with simple, broad sketches and the philosophy of 'never give up' he was able to use STEM principles to envision and implement the ideas into the project," she said.
"We were then able to use the same skills in our project. This story had an impact on me and other students to never give up, work as a team to create an original garment design while using the inspiration of the Sydney Opera House."