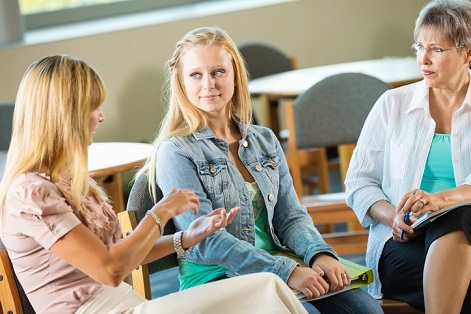 Recent reports have found that younger people are at a higher risk of having mental health issues, putting pressure on schools and communities to intervene early.
A recent study by yourtown found that male school leavers are also at higher risk of having a mental health condition as they are least likely to seek support.
In his address at La Trobe University, Youth mental health organisation Orygen executive director Professor Patrick McGorry said that while Australia would rank above the OECD average in terms of health, wealth and education, the issue of mental health is often out of the picture.
Professor McGorry, a researcher involved in early psychosis and youth mental health, further noted that poor mental health "saps the energy and creativity and blights the lives of over four million Australians."
"We have a once in a generation opportunity to transform the landscape of health care and end the inequity and prejudice against mentally ill people and their families," he said.
"There are solutions and they are achievable."
To address this, the Federal Government recently announced it will set aside $10,000 from the $503m Youth Mental Health and Suicide Prevention Plan to train childcare providers working with Indigenous families on supporting at-risk children.
Part of this new endeavour is partnering with the Connected Beginnings project, whose representatives will share their insights at ChangeFest19.
Federal Education Minister Dan Tehan said the government provides $12m every year for Connected Beginnings to bring together early childhood education, family health and support services in communities facing disadvantage.
"Mental health experts will provide valuable advice to staff working in communities across Australia on strategies to improve support for children and families that need it most," Minister Tehan said.
What research says
Schools that have been promoting more play time in their schools have also made strides in improving student wellbeing. A new paper from Deakin University reiterated the importance of physical exercise, noting that there are many ways to go about this.
Dr Megan Teychenne, a senior lecturer at Deakin's Institute for Physical Activity and Nutrition and the lead author of the study, said that the positive effects of exercise on mental health might be lost if done incorrectly.
"Factors like enjoyment and social interaction are likely to positively impact the relationship between physical activity and mental health," Dr Teychenne said.
"We found exercise that is self-motivated, enjoyable or personally important is associated with good mental wellbeing. While exercise that is undertaken due to guilt or pressure is associated with poor mental wellbeing, and is therefore unlikely to be sustainable."
Training kids
While there have been schools that have implemented their own programs to improve student wellbeing, a program may be needed to train students to also look out for their peers.
Another study, conducted by the University of Melbourne, took note of the importance of mental health literacy programs in schools to boost teenagers' ability to recognise and even support their friends who might be at risk of committing suicide.
The study evaluated the Mental Health First Aid (tMHFA) program, a classroom-based training program which is aimed at Years 10-12 students. Over 800 students from four government schools were covered in the study and were compared to those who took a physical first aid courses.
The University's study found that those who took part in the mental health training were 35 times more likely to report adequate suicide first aid than their peers who took a physical first aid courses.
However, the study also found that while temporary, tmHFA students reported higher levels of distress after their training – lasting for "a few moments to a few hours."
Dr Laura Hart, a senior research fellow at the University of Melbourne, said that young people account for nearly one third of the 800,000 people who die by suicide each year. Likewise, suicide is also the leading cause of death among 15 to 29-year-olds.
Hart was also one of the developers of the tMHFA program in 2012.
"Three in four young people report that they would first turn to a friend for help if they were considering suicide. We need to equip teenagers with the skills and knowledge to recognise warning signs and get appropriate help for their friends," Dr Hart said.