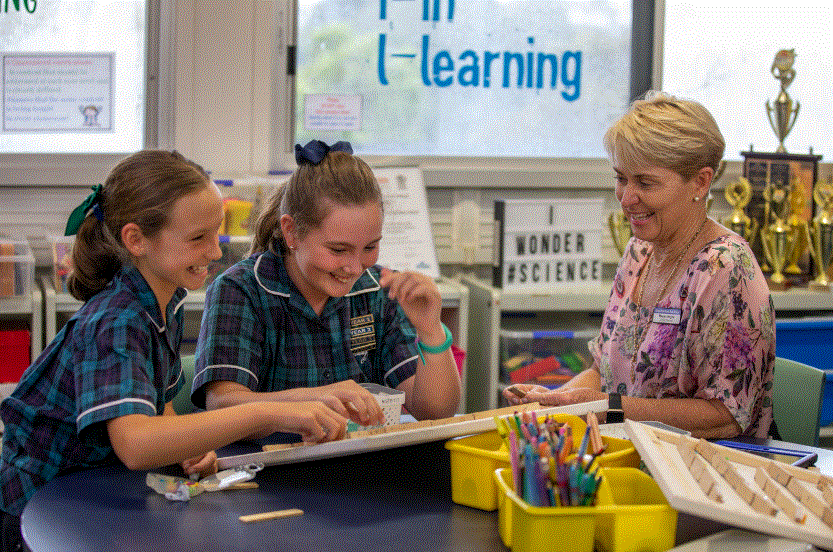 On 21 November, this year's Prime Minister's Prizes for Science (The Prizes) will be presented at Parliament House in Canberra for the first time since 2019.
The Prizes are Australia's most prestigious awards for outstanding achievements in scientific research, research-based innovation and excellence in science, mathematics and technology teaching.
The honour roll for the Prizes includes Megan Hayes, STEM specialist and primary teacher at Mudgeeraba Creek State School, who was awarded the 2021 Prime Minister's Prize for Excellence in Science Teaching in Primary Schools in recognition for her outstanding work in championing STEM education at a national level and inspiring students to think critically, take risks and become 'agents of change' for the future.
Hayes' philosophy is to build the connection between science and its application in the real world for her students.
Read more: What makes an award-winning STEM program?
Since receiving the award, Hayes has focused on building the capacity of STEM teachers in Queensland, reiterating the importance of inspiring the next generation of talented minds to pursue a career in science and become 'agents of positive change' for society.
To support this, Hayes has successfully created and lead the 'Sistas in STEM' conference which has grown considerably since receiving the Prize. The aim of the conference is to provide a program of hands-on workshops, research projects and cutting-edge presentations to inspire the girls towards possible careers in the STEM field.
Since its inception, the number of year six and seven female students participating has grown from 36 to 120 – in just the past twelve months.
"The Prize has provided me with many opportunities in the past 12 months to share my teaching and learning experiences," Hayes told The Educator.
"Most recently, I was involved in creating and sharing a OneChannel session about using an inquiry learning focus in classrooms."
Hayes has presented at the Queensland Association of Mathematics Teachers (QAMT), Science Teachers' Association of Queensland (STAQ), and Australian Science Teachers Association (ASTA) conferences about ways to engage young learners using atomic theory in my science classroom.
She has also worked with the state's regional Senior Education Officer – STEM to create networks for primary science and STEM educators.
"The number of members has grown considerably with regular term meetings that highlight areas of the curriculum and related topics," she said.
"Establishing a STEM program at my own school has delivered me the opportunity to extend student learning beyond silo subjects and the classroom, by connecting with real world experts and discussing issues that matter to our students."
Looking towards 2023, Hayes says the biggest opportunity, and challenge, for the year ahead and beyond will be the roll out of Version Nine of the Australian Curriculum.
"With the focus on what matters most and reducing content in the primary years, along with lifting quality, it aims to allow greater flexibility for schools to develop teaching programs that integrate the technologies subjects and other learning areas," she said.
Hayes said enabling the next generation of STEM professionals to flourish is reliant on how educators make purposeful, real-world connections for their students who are curious about the world.
"The other challenge will be to continue delivering rich opportunities for Science and STEM educators to make worthwhile connections via conferences and seminars that make them feel supported and confident in their teaching practices."